US Holds Serve In World Cup Qualifying
It Ain't Pretty, But It's All We Needed
The US had a predictably disjointed first set of qualifiers, beating an organized Antigua & Barbuda side at home, and surviving a typically sketchy road trip to Guatemala.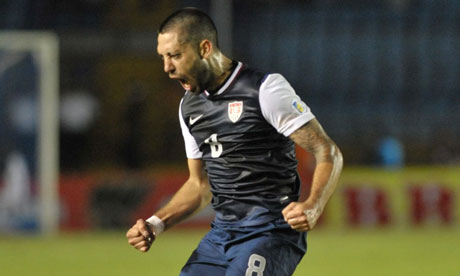 We said all along that the only thing that matters here is getting results.  Style points don't count in qualifying – which is a good thing because they typically are nowhere to be found.  People who think we should waltz into Central America and dominate haven't been watching CONCACAF soccer for long.  A draw does just fine, thank you very much.  And it sets us up nicely for a home and home set against Jamaica in early September, which will go a long way towards determining if we can book our ticket to the Hex early or if we'll have to sweat out the final couple of matches.
So what about the performances?
Against A&B, we dominated possession as expected but tended to over think things in the final third – squandering some chances with overly elaborate passing.  An injury to Torres forced Klinsmann to bring Onyewu into the match, moving Bocanegra out wide left in defense.  The change wasn't optimal, as Onyewu was burned for a goal and perhaps played his way out of the squad until he regains form at the club level. The 3-1 score slightly flattered the visitors and the US was left wondering how to improve its incisiveness in the box.
Against Guatemala, things were a little more mixed.  Dempsey's goal came from fabulous forward thrust by Fabian Johnson who found the EPL star in a tight space at the top of the box.  After sidestepping two lunging defenders, he cooly finished and the US looked on their way to a great win in a hostile environment.  But Guatemala's direct play caused a ton of problems for the US (something they'll have to work on) in the second half and the secondary runners found some dangerous spots.  A foul by Johnson on the deplorable Carlos Ruiz led to Marco Pappa's fine free kick to equalize. The 1-1 score was probably a fair result.  The ref was better than we've come to expect down there, but did cost us a goal on a quick whistle when he should have played advantage.  And he let Guatemala's persistent, cynical fouling to go uncarded for far too long.
Lessons Learned
Johnson – Take the good with the bad…he created our goal, but also created theirs.  His attacking was excellent all game long, but in addition to the telling foul, he let the Guatemalan attackers behind him a couple of times and was bailed out by keeper Tim Howard.
Cameron – Tough spot to be forced into, subbed in as CB at halftime defending a one goal lead on the road against a desperate team after Klinsmann deemed Goodson too risky to continue after his yellow card.  He held up admirably and his passing is a definite upgrade from the other options on the roster.
Soccer 101 – All of the Guatemalan chances came from simple stuff.  Direct high balls and flicks into the box and two man combinations on the flank.  With our superior talent, those tactics should not flummox our defense so easily.  This is something that Klinsmann will absolutely have to address.
Convergence (Not The Good Kind) – I noticed our attack continued to arrive at a focal point around the "D" at the top of the box.  We'd have too many bodies in a small space and lose the ball at that point.  Whether by player personality or by design, too many US players look to arrive in that spot when the attack builds into the danger zone.  It's a good spot to arrive in, but not when you don't have wide options to play in from there, the defense can just collapse.  We saw that repeatedly in both games.  We need more width in the final third.  More crossing and less dinking the ball around the top of the area.
Deep Thoughts
Some of the fan chatter has been very negative, nearing panic in some quarters after these two games.  This misses the big picture.
People forget four years ago. In the semi round, we played really ugly soccer for the most part. Remember, we couldn't score any way but a set piece. It was a long ball to Ching strategy and look for second balls and fouls. Nobody liked it, but it got the results we needed. 1-0 in Cuba. 1-0 in Guatemala, both on corner kicks, if I remember correctly. We relied on Danny Califf as our defensive depth. Eddie Lewis played a big role. Pablo Mastroeni was still a starter.
We got to the hex, beat Mexico with Ching, Hejduk, Pearce, Beasley playing big, big roles in the team. None of these guys would really be a factor in 2010, but we were able to get the results we needed with them early in the Hex. We had no idea that we would get an injured Onyewu and Beasley would fall off the face of the earth. We thought Pearce was our guy at LB for the foreseeable future. We didn't know Davies, a Holden, a Feilhaber, and a DeMerit would be able to step in and play big roles. We hoped, but we didn't know.
That's where we are now in this cycle. We've got an offense that is trying to find its rhythm, and some vets that we can still lean on to grind out results. There's a big picture here. The team will look radically different in a year and in two years. It just will, it always happens. Guys get hurt, unexpected young players step up. This is the fun of following the team. If you lose sight of the fact that this is a two year process with peaks, valleys, and everything in between, you're gonna have blood pressure problems, and I question whether you've ever followed a team for a four years cycle before. Hell, just a couple of years ago, we went from nearly losing at home to Honduras and putting the whole issue of World Cup qualifying at major, major risk…into a Confederations Cup that had the US Soccer community on suicide watch until a remarkable last day of the group stage.
So my sage advice is to focus on the positives. Cameron is a positive. Johnson is a positive. A CB who can step in to a road qualifier and do ok – that's a big discovery. An LB who can generate chances for the team – that's a big discovery. But ultimately all that matters is that we got our 3 points at home, our 1 point on the road, and we lead the group.  Leading the group – that's where we need to be regardless of how it looked on the field. And just remember that whatever you think you know about this team will probably be proven wrong multiple times again over the next two years.
Next
We've got an August 'friendly' in Azteca in Mexico City of all places, followed by vital games at Jamaica, then at home against Jamaica in September.  Until then, wish our European-based boys well as they take their vacations and head back to their clubs for a grueling preseason. The MLS guys don't get a minute of rest, as they will be dropped right back into their league season.