Chivas USA's Monumental May Builds Up to a So-So June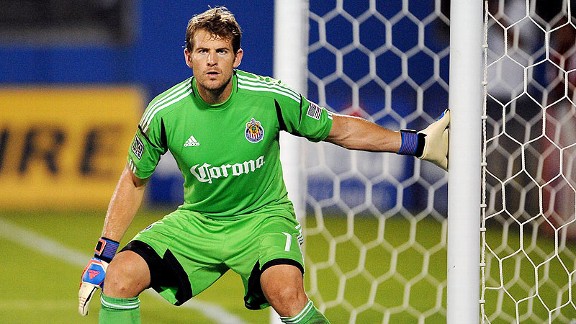 Before the international break, Chivas USA made headlines more times in two weeks than they probably had in a couple of seasons. It started with their 1-0 defeat of cross-town rivals LA Galaxy. The Goats had not beaten the Galaxy in 14 matchups. I'm not sure that many people would even acknowledge it as a rivalry due to its lopsided nature. However, Chivas USA showed a lot of promise in this season leading up to the matchup, while the Galaxy was sputtering. The Goats were able to convert a PK in the second half and go away with a 1-0 win at home. This type of matchup does wonders for confidence, and helped the team get an important away point at New York Red Bulls just 4 days later, and another point against the Seattle Sounders just after that. I won't get into the details of their continued tendency to give up goals so soon after taking a lead, as I would just be beating on a dead horse.
Then, there were rumblings of a big trade with the Philadelphia Union for Danny Califf, who had fallen out of favor with then head coach Piotr Nowak. For a few days after the road game against the San Jose Earthquakes, there was some talk regarding Califf coming to the Goats after Nowak said it was done. Furthermore, there were rumors of Califf and his wife also acknowledging a trade. However, Chivas USA, coach Robin Fraser, and GM Jose Domene downplayed the rumors and only acknowledged that they had inquired into getting Califf. Then, on May 17th, defender Heath Pearce broke on Twitter that he was being sent to the New York Red Bulls. I think I can speak for all Chivas USA fans, and probably a few MLS fans, that we were all a bit shocked by this. The news came out a few hours later that he would be sent to NYRB in exchange for Juan Agudelo, with the Goats helping pay for part of Pearce's contract. This put all the pieces in place for Califf to come to Los Angeles, in exchange for midfielder Michael Lahoud and allocation money.
The trade seems to have worked out for everyone so far. Pearce is flourishing in New York, and was recently named captain. Lahoud is a starter for a Philadelphia Union team that it trying to rebuild itself after firing head coach Nowak. And Danny Califf and Juan Agudelo are starters and producing extremely well for Chivas USA. Agudelo has already scored 2 goals in 4 appearances for the team.
So how did all of this movement work out for the team? All right, I guess. The team started off their play in June with a 3-0 home loss to Real Salt Lake. It seemed like they were the old team of March who couldn't find any footing and consistently gave up horrid goals. They then played a midweek matchup on the 20th against the Montreal Impact and were able to get a 2-1 win thanks to heroics from substitutes Juan Pablo Angel and Jorge Villafana. The team then traveled to Dallas this Saturday and was able to come away with a 0-0 draw in a game that was nothing to write home about. All in all, a so-so campaign. It is worth noting that the same rotation of players started in all 3 matches and played for a good duration of all three. That's almost 270 minutes in a span of a week. The notable exceptions would be the return of Nick LaBrocca on Saturday, who has been out with a hamstring injury, and the usage of Casey Townsend in Dallas instead of Juan Pablo Angel who did not travel due to a calf strain. Also, Dan Kennedy rocked the short-sleeved GK kit in 90-degree heat with heavy humidity – I think he wears it well.
While these results are ok for now, the team needs to see a change. There needs to be more consistent results in order to make it to the playoffs, and it needs to start now. Too often last season were important points missed in situations where they could have easily been acquired. Additionally, with the tight nature of the bottom half of the Western conference, anything can happen. The team continues to be third from the bottom, but is tied on points with 2 other teams, and only one point behind two other teams. Again, it's all super close. The players spoke of missed chances a lot last season, and how they should've converted many of their draws into wins. If they want to have a chance at the playoffs this year, they need to start forcing those wins now.
The team now has their U.S. Open cup campaign to look forward to on Tuesday. I think this can be a tournament they can make a strong run in. If they can't make the playoffs, they should at least try to work for some silverware. They will play home (well, at a local university's stadium) to the Charlotte Eagles. As it is their last game in June before 3 straight MLS games at the Home Depot Center against Vancouver, Portland, and LA Galaxy, the team can hopefully get into a good run of matches.